My favourite gadget of 2008 – the Synology DS107
Yep, I know it's March already 🙂 but back in December I picked up one of these because I was after some Network Attached Storage, and it has impressed me ever since.  This isn't a review as such, more a highlight of my favourite features and possibly some tips and tricks I've found..
My main reason for picking up the Synology DS-107+ was to have a large, always on, networked disk for multiple computer backups. It was easy to drop in a Samsung Terrabyte disk (as the box itself comes without a disk), download the latest firmware, and follow the simple setup wizard which formatted the disk and installed itself.
Disk Station Manager 2.0
Having read a few reviews before I decided on it, I wasn't able to find one that talked about the new Disk Station Manager 2.0 which Synology released in March 2008 (according to the release notes - this is the typical web-browser-based approach to device management we're used to seeing in ADSL routers, VoIP devices and NAS boxes.
Synology have included everything and the kitchen sink in thiers - it's all easily findable and configurable, including full 'root' access via telnet and ssh (the root password is the same as the one you're asked for when initially setting up the admin account - more on this a little later).
First, here's some stuff I've found really useful out of the box:
Apple Time Machine backups
I mainly use a Mac Mini at home, which I had been backing up with Time Machine to a Firewire External Hard Disk. I was pleased to find a pretty straightforward guide for using the Synology instead.
Download Station 2.0 - HTTP, FTP, BitTorrent, NZB and eMule downloads
Being able to set away downloads of fairly large files is pretty handy - I like to check out the latest enhancements to various Linux distributions so I've only had need for the HTTP options so far.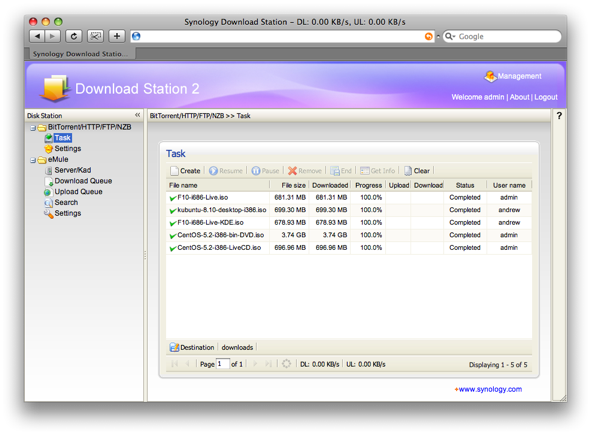 Web Station
This basically starts an Apache2 webserver, with the option of MySQL too - a LAMP stack in a small, good looking box! PHP is enabled by default, and Synology host a wiki of user confirmed compatible web applications, such as phpBB, Joomla, Drupal, Piwigo, SugarCRM, oh, and DIY blogging tool called WordPress 😉
I've got DokuWiki running at the moment as the user comments said MediaWiki (which runs Wikipedia) is a bit slow on the DS-107. Backups are easier with DokuWiki too as it's file based.
Terminal - Telnet and SSH, getting under the bonnet
Reading a few blog posts on the earlier DS-106 model, it seems there were patches that granted telnet access. Since then it seems Synology have quite rightly decided to provide simple Telnet and SSH access: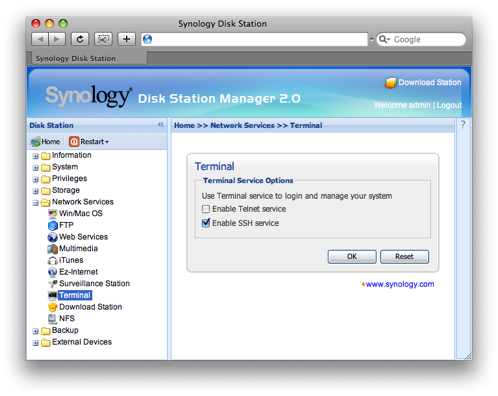 This means I've got an (albeit lightweight) Linux server, always on, sitting on the network..
With some trivial instructions, I installed the Itsy Package Management System (which is called bootstrapping), and gives access to 1,172 applications, tools and libraries!
And after securing SSH and poking a hole to it in my router, I can log into my Synology DS-107 from pretty much anywhere and get access not only to the files, but to the web interface via the magic of SSH Tunneling.
Subversion
Among those extra applications is Subversion - the open source version control system which was a snap to install, configure and then (using the web Disk Station Manager 2.0 options) configure backups of both the Subversion repository and DokuWiki every hour to an old USB stick I plugged in the back.
The only thing that took me a bit of time to figure out was how to get svnserve to start automatically should the NAS ever restart. Do check out my comment on Rob's Synology Subversion post if you'd like to know what I came up with 🙂
In summary
It's a fantastic peice of kit - full of features, well made, small, looks good, has a great Ajax-y web interface, and with a little tweaking there's enough of a Linux server in there to run pretty much anything.
Well done Synology 🙂